Amazingly enough, many of the best things in life come simple and easy.
O
Discovering the
Flight Simulator in Google Earth
- this is probably
the best Easter egg
ever. It may not be the best simulator game, but its pretty amazing considering the data is real. Try flying off Kathmandu over the Himalayas as well as from San Francisco across the Bay on a high speed line where rendering will be smooth. Also check out planetary models in Sky mode.
O
Watching
Bheja Fry
on a tiring long haul flight left me with a smile on my face, and a fuzzy feeling left by movie magic.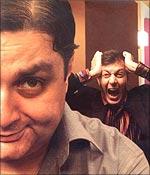 Vinay Pathak (see pic) steals the show in this simple and delightful film (remake of a French movie).
O
Forget Hollywood and Bollywood. YouTube video of
Battle at Kruger National Park
- kidnappings, in-fighting, tug-o-war, action stunts, vengeance, and a happy ending for a young buffalo - the Animal Kingdom has it all.
O
A bag of rice can save the day. Or at least
help recover a wet mobile
, as I found out after I accidentally slipped (sigh - this is embarrassing!) into a river. After blowdrying, huffing and puffing, attempting to dismantle it, and then just praying, I found this
grain of truth
(bad pun, I know).
O
Fun little multi-burst shots off my camera while Monami and I were at Gokarna for a quick weekend retreat. The trip cost us barely Rs. 2,500/- all in all including the bus, food and lodging, and was great value.